**SUBMISSIONS ARE NOW OPEN**
Winners will be announced by August.
Deadline extended to: April 1, 2017
Guest Judge: Aimee Nezhukumatathil
Guidelines for The (Great) Indian Poetry Collective's Emerging Poets Prize & Editor's Choice Award
The (Great) Indian Poetry Collective is a mentorship model literary press, bringing new poetic voices from India to the world. We are a not-for-profit, shared work literary press publishing and promoting poets with a connection to India/Indian diaspora. The Emerging Poets Prize will help nurture and bring out new poetic voices from India, the diaspora and those that have a meaningful connection to India.
Up to three manuscripts will be chosen for publication, one by our guest judge and the other two by the founding Collective poets.
Manuscripts are judged anonymously and all finalists will be considered for publication.
***Please read the complete guidelines before submitting your manuscript.***
Winners will receive:
• A cash prize of Rs. 15,000 (or equivalent in local currency)
• Publication of manuscript, with a minimum press run of 250
• 20 author copies
• A book launch
• Membership in The (Great) Indian Poetry Collective for two years
About the Contest
The (Great) Indian Poetry Collective will select up to three manuscripts for publication. At least one of the manuscripts will be by a poet who lives and writes in India. We reserve the right to publish no manuscript from the submission pool.
The best way to become familiar with our press is to see our books.  
You may also read an interview with the Collective poets here. 
About Our Guest Judge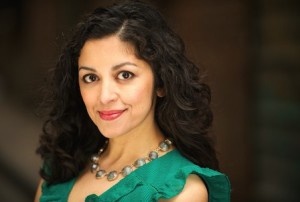 Aimee Nezhukumatathil was born in Chicago, IL to a Filipina mother and a father from South India. She attended The Ohio State University where she received her B.A. in English and her M.F.A. in poetry and creative non-fiction and was then awarded the Diane Middlebrook Poetry Fellowship at the Wisconsin Institute for Creative Writing at UW-Madison. She is Professor of English at State University of New York-Fredonia, where she teaches creative writing and environmental literature.
Her newest collection of poems, OCEANIC, is forthcoming with Copper Canyon Press in early 2018. She is also the author of the forthcoming book of illustrated nature essays, WORLD OF WONDER (Milkweed, 2018), and three poetry collections: LUCKY FISH (2011); AT THE DRIVE-IN VOLCANO (2007), winner of the Balcones Prize; and MIRACLE FRUIT (2003), winner of the Tupelo Press Prize, ForeWord Magazine's Book of the Year Award, the Global Filipino Award and a finalist for The Glasgow Prize and the Asian American Literary Award. Her most recent chapbook is LACE & PYRITE (2014), a collaboration of nature poems with the poet Ross Gay.
Other awards include a poetry fellowship from the National Endowment for the Arts, the Pushcart Prize, the Angoff Award from The Literary Review, the Boatwright Prize from Shenandoah, The Richard Hugo Prize from Poetry Northwest, an Associated Writing Programs Intro Award in creative non-fiction, and fellowships to the MacDowell Arts Colony.
Aimee was named the SUNY-Fredonia's Hagan Scholar for a junior faculty member with distinguished scholarship—the first time a member of the SUNY-Fredonia English Department has won this award. Nezhukumatathil also received the Drescher Research Award and SUNY-wide Chancellor's Award for excellence in scholarship and creative activities.
She is the poetry editor of Orion magazine and her poems have appeared in the Best American Poetry series, American Poetry Review, New England Review, Poetry, Ploughshares,and Tin House. She lives in Oxford, MS with her husband, Dustin Parsons, and their two young sons.
In 2016-17, Nezhukumatathil is the Grisham Writer-in-Residence at the University of Mississippi's MFA program in creative writing.
How the Collective Works
Under our peer mentorship model, new poets are paired with published poets to hone and fine-tune their manuscripts through a rigorous editorial process, leading to publication. Once a manuscript is ready, the poet is involved in all aspects of layout and design, working with talented graphic designers and artists. Poets who join the collective are never asked to fund the printing of their books. They give back what they have received in terms of time – one year of mentorship to a new collective member and participation in the shared work of the press.
Eligibility
We publish first and second books only. Unpublished writers, poets who have published one full-length book, or chapbooks (30 pages or less), are eligible. Poets who have published two or more poetry books, whether through a press or self-publication, are not eligible.
• Poets must have a substantial connection to India or the Indian diaspora.
• Manuscripts must be in English. Translations are not eligible.
• Poets must be available to be fully engaged Collective members for two years, including participation in the shared work of the press.
How to Submit
Please follow this link to submit:
Follow all instructions precisely.  Please pay particular attention to the manuscript formatting guidelines. 
You will be guided to enter a cover letter and Statement of Purpose. These may include your name and personal details.
You will also be guided to upload your manuscript. This should NOT include your name or any identifying details, so that our readers can judge the manuscripts fairly and anonymously.  
Do not send entries via email.
Since this is a collective press, we consider the whole package: both the merit of the work and the poets themselves and what they can bring to the Collective.
We suggest 48 to 80 pages of poetry, but no manuscript will be rejected simply because of length. Individual poems may have been published elsewhere (in journals, magazine or part of an anthology), but the manuscript as a whole collection must be unpublished.
Notification
Results will be announced  via email by August, as well on our website and Facebook page.
Disqualification
Please read the guidelines very carefully. Incomplete submissions will not be read.  Manuscripts that contain your name will be disqualified.
FAQ
What does being a Collective member involve?
All poets who publish through us serve as a Collective Member of The (Great) Indian Poetry Collective for twenty-four months. The first 12 months are spent in peer mentorship with another Collective member, working on your own manuscript and bringing out its fullest potential. The second twelve months are spent peer mentoring a new member of the press.
Collective poets also work on projects of their choice such as curating poems for our inPoetry app, teaching workshops, organizing and appearing at events, social media, and administrative work for the Collective. Your Statement of Purpose should give a sense of your interests and potential contributions.
Are simultaneous submissions allowed?
Yes. Please notify us immediately to withdraw your manuscript if it is accepted elsewhere.
Is this a vanity or self-publishing enterprise? What is your business model?
We are not a vanity press. Poets who join the collective will never be asked to fund the printing of their books or to buy a minimum number of books. We believe that writers deserve to be paid, and our budget for each book includes author payment. We choose manuscripts through a competitive process, and we rigorously edit and mentor each writer to create the best book possible. Our press is sustained by seed money from the founders, individual donors, workshop fees, and book sales and subscriptions.
What should I say in my Statement of Purpose?
Your Statement of Purpose should tell us what excites you about publishing with the Collective and what you would contribute as a Collective member. For example, activities of current members include designing and holding workshops, mentoring poets, raising funds for the press, organizing community poetry events, social media, finances, administration, and curating poems for our inPoetry app. Please don't limit your ideas; we look forward to new energy and hearing how you would contribute. The Statement of Purpose is a critical part of your submission. We encourage you to spend time on it, become familiar with our press, and consider why you want to be part of the Collective beyond publishing your own book. 
You may include relevant background about your experiences in the Statement of Purpose, but it is primarily forward-looking. Do not use your Statement of Purpose to describe your manuscript.
Are poets from Sri Lanka, Bangladesh, Nepal, elsewhere eligible?
We publish books by poets with a substantial connection to India or the Indian diaspora. The connections between countries in the region run deep; you are welcome to submit if you feel you meet this criteria.
Do submissions have to be by a single author?
We welcome manuscripts that are collaborations between writers. We are open to manuscripts that include artwork, but manuscripts will be judged on the basis of the quality of the poetry first.
May I submit individual poems for consideration for the inPoetry app?
No. This contest is for book-length manuscripts only.
Inclusion in the  inPoetry app is by invitation only at this time. Poems are excerpted from books that are already published (not self-published). Publishers or authors of published (not self-published) collections are welcome to send a note of introduction through our Contact page for further information.
May I submit a Haiku/Tanka/Haibun manuscript?
No.
May I submit translations and/or poems in  languages other than English?
No.
Can you give me any feedback on my poetry?
There are two ways to work with us to receive feedback on your poems: through one of our workshops, or through a manuscript critique during our open critique periods. Please join our mailing list to learn about future opportunities. 
We cannot give feedback on manuscripts that are not chosen for publication. We do not review published books.
Can I edit a manuscript after I submit it?
No edits can be made to the manuscript after you submit it; we cannot review multiple versions of the same manuscript. However, chosen manuscripts will go through a process of peer mentorship, and changes can (and should!) be made prior to publication.


*
Please follow this link to submit: